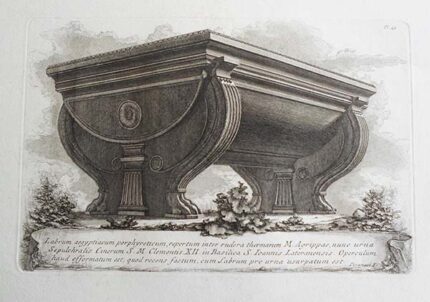 £

180.00
Labrum aegyptiacum porphreticum, repertum inter rudera thermarum M. Agrippae, nunc Sepulchris Cinerum S.M. Clementis XII in Basilica S. Ioannis Lateranensis.
Il Camp Marzio dell' Antica Roma &c.
First Paris 1800 -1807
Etching
190 x 290 mm
£180
Sarcophagus of Egyptian porphyry found in the ruins of the Baths of M. Agrippa, now the funerary urn for the ashes of Pope Clement XII in St. John Lateran. W. E. 564.